Ranked one of the top 10 zoos in the world, it's easy to see why Singapore Zoo is such a popular tourist attraction. With over 2800 animals residing in a tropical rainforest location, the award-winning zoo is a wonderful place to take your kids. Here are some of our best tips for a great family day out at Singapore Zoo.
The innovative design of the zoo uses moats and other unobtrusive design to keep animals and humans apart. This provides a more authentic wildlife experience as animals aren't in cages. Instead, they are roaming around freely.
We enjoy watching the feeding session with Inuka, the first polar bear to be born in the tropics. Even though he's an older bear at the age of 27, he's still active and swims for snacks of meat and fish.
We then head to the Elephants at Work and Play Show. This amusing 20-minute show demonstrates the ability and intelligence of Asian elephants and the strong bond they have with their trainers called mahouts.
After the show, there's the option to feed the elephants with a $5 basket of fruit. You have to get in early though as it's limited to 20 participants. Feeding the elephants is an unforgettable experience especially when an impatient trunk is waving around looking for food.
Allow for about 4 to 5 hours at the zoo as there's plenty to see. There are lots of animals to see including lemurs, komodo dragons, leopards, lions, giraffes, orangutans, gibbons and flamingos. There's also feeding opportunities with elephants, giraffes, white rhinos, baboons and giant tortoises.
With the hot and humid climate of Singapore, it's easy to get tired. Take frequent breaks to get some shade and drinks lots of water.
There are water stations dotted around the zoo so bring a refillable container or purchase one at the zoo. There's also plenty of toilets all around the zoo, a handy thing to know if you have kids with little bladders. In addition, there's nappy changing facilities around the zoo as well as nursing rooms. Check your zoo map for specific locations.
If you get hungry at the zoo, there are numerous food options serving delicious and reasonably priced meals. The cafe we ate lunch offered Indian, Malay, Chinese and Western meals catering to all tastes.
As well as walking around the zoo, you can also jump on a tram. It's an extra charge of $3 for kids and $5 for adults but it's worth it to cover the 25-hectare zoo. You can jump on and off at tram stops as required.
After seeing all of the animals, make sure you visit the Rainforest Kidzworld area. It features a carousel, pony rides (extra charge).
There's also a massive kids water play area that the whole family will enjoy. Pack your swimmers and cool off.
We spend an hour here enjoying the water amusements. Just watch out for the giant splash bucket!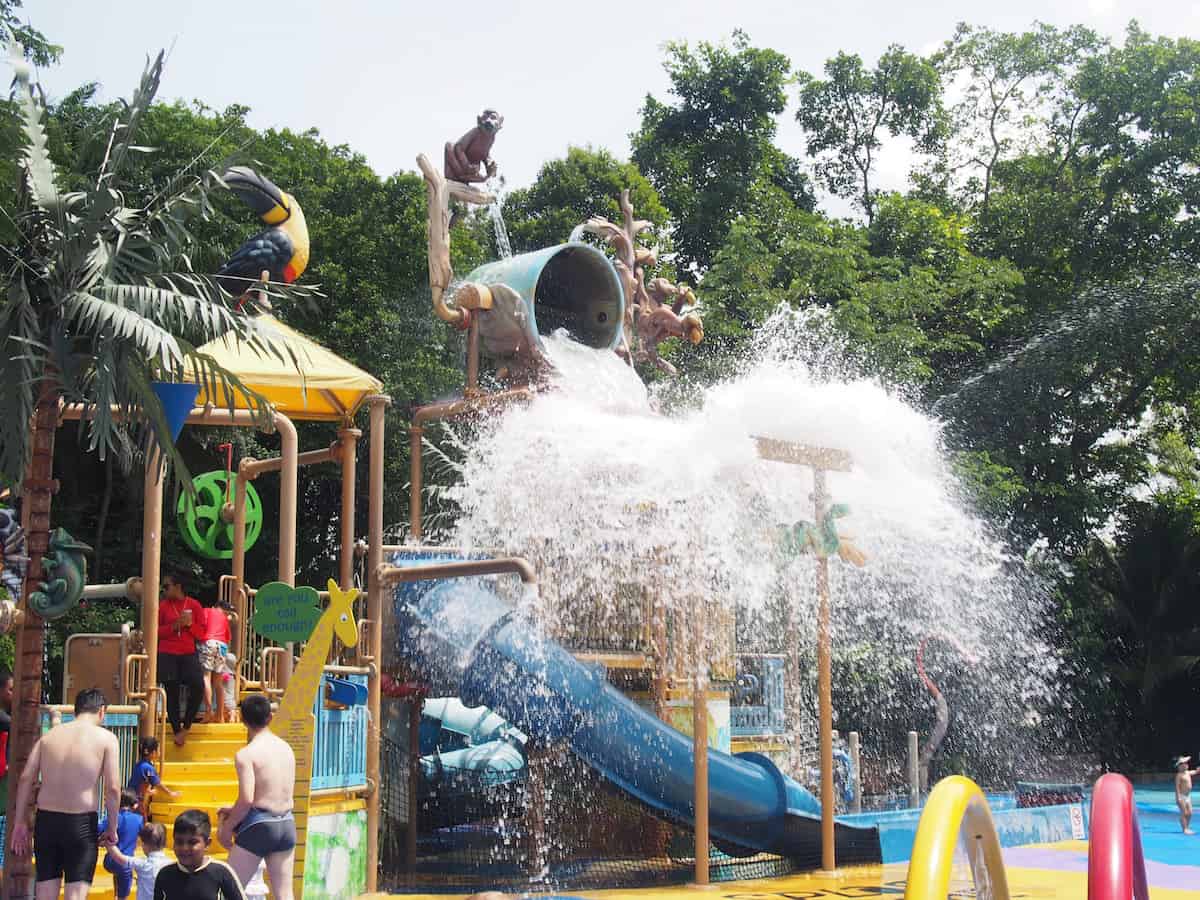 We thoroughly enjoyed our visit to the Singapore Zoo. With an innovative design and a large range of animals, it's a top spot to go. Plus, with family-friendly features such as a tram service, numerous rest areas, kid-friendly feeding opportunities and a fun water play area, it makes for a great family day out.
Tips for Visiting Singapore Zoo
Before you go to the zoo, decide how many other zoos you would like to visit such as the Night Safari, River Safari and Jurong Bird Park. Singapore Zoo offers a Park Hopper option which you the option to visit 4 Parks within 7 days. Other combinations of Park Hopper tickets are also available.
Singapore Zoo is located about 28 kilometres from the CBD. It's accessible via an MRT ride to Ang Mo Kio and then the connecting 138 bus which drops you off at the front gate. However, it takes about 1 ¼  hours to get to the zoo. A taxi is faster taking between 30 and 40 minutes and costs $25 until 6pm. From 6pm to midnight, there's a 25% surcharge.
Singapore Zoo hires strollers ($9) for infants and toddlers and also wagons ($15) to pull toddlers around on a first-come, first-served basis. There are also lockers available if you need to store bags or luggage.
Time your visit to coincide with animal shows and feeding sessions. Check the website for details beforehand
Bring refillable water bottles and stay hydrated at the zoo. Take advantage of the numerous shady areas at the zoo
Be ready for the tropical weather. Bring a poncho or umbrella as Singapore experiences rain. Also, bring sunscreen.
Wear comfortable walking shoes as the zoo covers a large area.
Bring your swimmers and a towel if you want to visit the waterplay area. If you forget, you can purchase them at the kiosk next door.
For more information, visit the Singapore Zoo website.
Disclaimer: Family Forays was a guest of Singapore Zoo. All opinions are my own.