Want a family holiday destination which combines Zen gardens, temples, bamboo forest groves and deer? Take your kids to Kyoto, Japan's cultural capital.
Read below for lots of tips about visiting Kyoto with kids. Japan is a fascinating country with friendly, helpful people. It's safe, easy to travel around and full of interesting places to go with young children.
Our holiday in Japan starts with an evening arrival at Narita International airport in Tokyo. We've arranged a night in a local hotel near to the airport which can be best described as shoebox size. However, it's comfortable and contains all the mod cons we need.
Travel on a Bullet Train
The following morning, we take a local train to the busy Tokyo Station and board the Shinkansen bullet train to Kyoto.
It's our first time on these trains and it's impressive. The seats are comfortable and there's plenty of room to place your luggage. With power plugs, and internet coverage on that part of the route, the 3 ½ hour trip whizzes by much like the countryside around us.
We soon arrive at Kyoto Station, a modern and futuristic high-tech station. Being a busy period, accommodation is scarce in Kyoto but we've managed to book a serviced apartment Citadines Karasuma-Gojo Kyoto. This apart-hotel is conveniently located 20-minute walk from the station or 1 subway stop from Kyoto Station.
Even though central Kyoto is modern, you don't need to venture far to discover the ancient. Best described as Japan's cultural heart, it was the capital of Japan for more than 1000 years until 1868 and boasts 2000 temples and shrines as well as imperial palaces and gardens. It's a wonderful spot to introduce children to temples and zen gardens but it's easy for them to get temple-overload so choose your temples wisely.
Walk the Philospher's Stroll & Visit Temples
After reading about the many tourist destinations, we start by walking The Philosopher's Stroll, so named for the philosophers who have walked along pondering deep thoughts. This is a 1.6km scenic canal walk that's dotted with temples, shrines and shops. (It takes us 3 hours to complete the walk and visit the temples as we took breaks in the heat).
We stop and explore two temples along the way. The first is Ginkakuji, The Temple of the Silver Pavilion built in 1482.
It's a beautiful spot with a large pagoda, rippled sand, mossy gardens and a meandering hillside pathway.
Further along the walk is Eikando Temple which was one of my favourites. This Buddhist temple was a respite from the heat and crowds. It's wonderfully calm and relaxing and involves walking barefoot through the temple complex.
This temple proves popular with my daughter who has found a sound ornament, Sui-kin-kutsu. This involves gently pouring water on the pipes to create sounds that resemble the sound of Koto, a traditional Japanese harp. This keeps her busy for ages.
Be sure to climb the 125 steps up to the pagoda on the hillside. Even though it's steep, you'll be rewarded with views over Kyoto.
Feed the deer at Nara
The following day, we head to Nara on the JR Nara Express train. It takes 40 minutes to reach JR Nara Station and then we hop on a sightseeing bus festooned with deer that takes us to Nara Park.
This 520 acre park consists of ponds, trees, temples and more than 1100 roaming deer. Considered messengers of the gods, these deer are revered and there are stalls selling "deer biscuits" dotted throughout the park.
Be aware that some of the deer can be a bit aggressive if you're not offering the biscuits fast enough. Hubby is nipped on the bum by an ornery old deer while another clamps on to the bottom of my shirt until I feed her a biscuit.
Around us, kids are being chased by deer and you can't help but laugh. It makes for a memorable experience.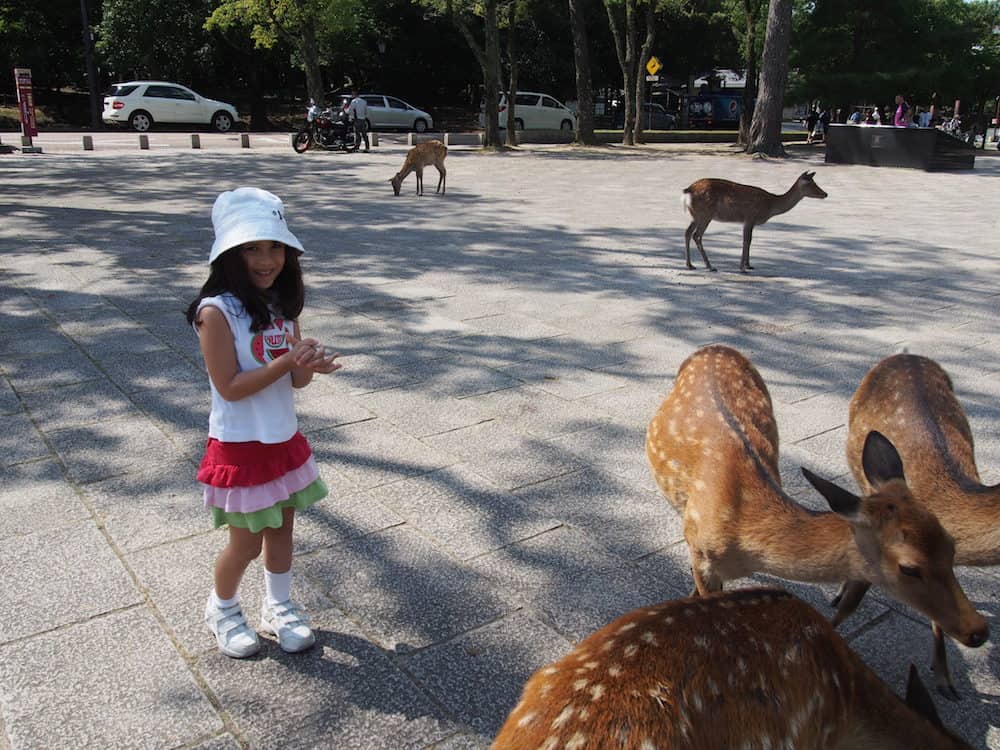 After the feeding session, we walk to the grand Todaji Temple.
Within the complex is the Great Buddha, Japan's second-largest bronze Buddha.
It's an awesome sight and deserves a walk around the temple so you can view the Great Buddha from different angles.
At the back of the temple, we notice a line of people and children in front of a column. We soon learn that they are lining up to squeeze through a small hole in a wooden column. If you achieve this feat, you'll reach enlightenment.
It's easy for kids but much harder for adults. The crowd cheers when a young man manages to squeeze himself through the hole. My daughter insists on having a turn and easily achieves it. Cue enlightenment!
Walk through the Kyoto Bamboo Forest
We take the train back to Kyoto and decide to take an impromptu trip out to Arashiyama to see the famed Bamboo Grove. It only takes 16 minutes from Kyoyo Station to Saga Arashiyama Station on the JR Sagano line. Then it's a pleasant ten-minute walk through suburban lanes to the bamboo grove.
On the way, we find a playground and a family from Melbourne to talk to. After a lengthy play, it's time to see the famous Kyoto bamboo forest. As we enter the bamboo grove, it's like entering another world. It has an ethereal feel to it even though there are loads of people around.
The sun peeks through the tall stems of the bamboo making you feel tiny. It's certainly worth a visit.
See a Geisha in Kyoto
The next day we visit the Gion district, Kyoto's famous geisha district, which features traditional wooden buildings.
Geishas are trained in the art of conversation, cultural arts such as tea ceremonies and ancient court dances. Unfortunately, we don't see any geishas. However, we do see plenty of women in kimonos.
Around Kyoto, there are loads of kimono rental stores. It's a popular activity for many Japanese and foreign tourists to don an outfit and walk around Kyoto. The experience involves renting a kimono and getting their hair and makeup done in traditional style. For our daughter, we end up finding a Hello Kitty kimono.
It's a perfect souvenir of our time in this unforgettable cultural capital.
USEFUL INFORMATION
Getting to Kyoto
It takes  3½ hours to travel from Tokyo Station to Kyoto Station. I highly recommend that you purchase a Japan Rail Pass (only available outside Japan). Available in durations of 7, 14 and 21 days, it's a cost-effective way to travel around the country using JR train network. You can use it for all JR trains (excluding the superfast Nozomi trains) and JR ferries. There are two classes, Green (First class) and Ordinary.
We purchased Ordinary tickets and found them to be excellent. Kids 6 and under travel free on the trains. In 3 weeks travelling around Japan, we never once reserved a journey on the Shinkansen. Instead, we would arrive at the station and line up at the unreserved carriage area of the platform. This is ideal when you are travelling with children as you never have to stress about missing a train.
Make sure you bookmark the website Hyperdia as it contains train schedules and is indispensable in planning your trip.
Getting Around
Kyoto is easy to travel around with a public transport system of buses, subways and trains. Use the bus to get to the Philosophers Walk. It's a flat fee for a single ride. We used the subway extensively to get from our hotel to the main Kyoto station.
Where to Stay in Kyoto?
We visited during a busy period and accommodation was scarce in Kyoto. We stayed at the serviced apartment Citadines Karasuma-Gojo Kyoto. This apart-hotel is conveniently located 20-minute walk or 1 subway stop from Kyoto Station.
We chose a triple which was perfect for our family of three. The room consisted of 2 beds plus a sofa bed. With full kitchen facilities, this serviced apartment was ideal. Check rates and availability for the Citadines Karasuma-Gojo Kyoto accommodation.
Where to Eat in Kyoto?
We stayed for 4 nights in Kyoto and having a kitchen made a huge difference. We visited a local grocery store located 7-minute walk from the hotel.
Being able to buy bread, milk, fruit, crackers, cheese and cereal made it easy to fix snacks and meals. They also have prepackaged bento boxes and other snacks. If you're staying near a department store, visit the food hall located in the basement which offers fresh, delicious takeaway foods.
We also enjoyed breakfast at Doutour and Seattle Best's Coffee, chainstores which can be found in shopping centres and train stations. These are excellent places to get a western breakfast or a good cup of coffee.
---
We visited Kyoto prior to the pandemic. However, this article has now been updated with current information.