Wondering if you can include visiting châteaux in the Loire Valley in France on a family holiday? Absolutely, you just need to know which châteaux to visit with kids and where to base yourself.
With hundreds of châteaux in the Loire Valley, it's a bit daunting trying to choose a château to visit with your family. Some people advise to spend an entire day visiting châteaux. If you have kids, that's not an approach I would recommend.
We visited three châteaux over three days and that was enough! Not only did it mean that we didn't try to see too much, but it also prevented Châteaux Overload. One per day meant that we got to enjoy our visit without rushing and really enjoyed our daily visit.
One thing to note about the Loire Valley is that it is a large area. There's a number of different places that you can base your family so that your drives to the châteaux aren't too lengthy. After much consideration, we chose to stay in Blois as it was the closest major centre to the three châteaux we wanted to visit: Chambord, Cheverny and Chenonceau. If you would rather visit the châteaux in Western Loire Valley, I suggest staying in Tours.
Visit the Grand Château de Chambord
Located 25 minutes outside of Blois, the Grand Château de Chambord is one of the largest châteaux in the Loire Valley. It's six times larger than the average Loire Valley château with 440 rooms (of which 80 are open to the public).
The château which features four wings was originally designed by Francois I as a weekend retreat. That's some weekender! It's a massive building both from afar and up close. There's three floors plus the rooftop terrace to explore.
Start by watching the 18-minute film on the ground floor which goes through the history of the château. It features different screens with various subtitles including English.
One of the standout features of this château is the double helix staircase thought to have been designed by Leonardo da Vinci. It comprises two intertwined staircases. The trick is that if two people walk up the separate staircases at the same time, they occasionally get glimpses of one another but don't meet until they are at the top.
Wander through the palace and discover the King's wing. You'll find a grand bedroom fit for a king. Unlike other châteaux, the many rooms of Chambord aren't furnished so it is a bit stark.
Head to the rooftop terrace.
From here, you'll understand the expanse of grounds that Chambord is situated.
The forests are said to be inhabited by wild deer and boar as it started off as a hunting lodge.
Throughout the château, you'll find a few activities for kids such as information about the double helix staircase and the royal crest.
Check out the Discovery Room which has an interactive screen that kids can play on and learn more about the châteaux of the Loire Valley.
Château de Chambord
41250 Chambord, France
See Dogs and LEGO at Château Cheverny
If your family loves dogs and Tintin, you must visit Château Cheverny. A former hunting palace, this estate has been in the same family for more than six centuries. 
The château is owned by the Hurault family who still reside there. Their family apartments are in the right-wing of the château. However, the rest of the château is open to the public.
It's a large home with three floors, two open for the public and one for the owners who still reside there.
We recommend that you time your visit to coincide with the daily dog feeding. Cheverny is known for its large pack of hunting dogs. There are 70 dogs which are half English foxhound and half French Poitou. The dog feeding is a spectacle with the trainer going through a carefully coordinated effort to feed these hungry animals.
The feeding time consists of the dog pack galloping down from their rooftop kennel to the courtyard below. The trainer then herds them and ensures there is order before they are given the signal to get in and eat. You'll see him refer to the dogs by name. He knows every one of the dog's names and doesn't hesitate to crack the whip on the ground and yell their name to enforce discipline. Be ready for the smell and noise of the dog show. Those dogs sure do smell.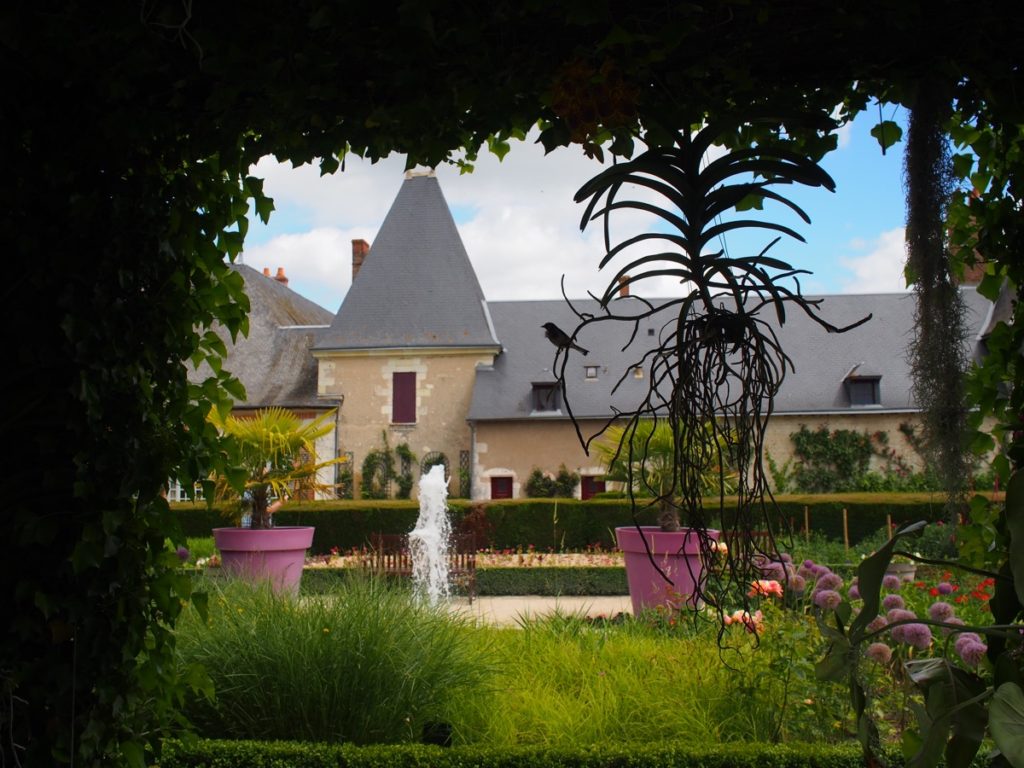 Once feeding time is over, head to the nearby garden. It supplies much of the produce for the château and is worth a visit.
It's then onto the château. This is a beautiful building both inside and out.
It's a stately building and was actually used by author Hergé as the model for his fictional "Château de Moulinsart" ( Marlinspike Hall in English) in The Adventures of Tintin books.
As you enter, pick up a copy of the Cheverney program available in various languages including English. It's a handy guide to refer to as you go through each of the rooms.
As you enter, you'll follow a route through the château and see various rooms including the dining room, arms room, King's bedchamber, chapel and grand salon.
Once you've explored the château, wander through the grounds. If you feel like a bite to eat, stop by the cafe.
Also, don't leave Cheverney without navigating your way through the maze. It's a fun activity which to use up kids' energy.
Château de Cheverny
41700 Cheverny, France
Visit the Ladies Château of Chenonceau
Of all the châteaux we visited, Chenonceau Château was my favourite. Located about a 40-minute drive from Blois, it's a beautiful place. It's nicknamed The Ladies' Shâteau as it was in the hands of some renowned women including Diane de Poitiers, the mistress of King Henri II and his wife Catherine de' Medici.
This beautiful furnished château which was built in the 16th century is constructed over the Cher River. The château is popular with visitors and can feel a bit cramped with so many people going through the different rooms.
For those with kids, I recommend hiring a video guide. There's a special track just for kids that is in English. We hired one for my 9-year-old daughter and it kept her engaged as we wandered through the three floors of Chenonceau. (We also hired ones for ourselves and they were great guides).
According to my daughter, in the kids version, it's narrated by a young boy who was sent to work at Chenonceau. He arrives with his mother's prized recipe which was approved by Diane.
It was nicknamed Diane's Delight and then later Catherine's Caprice when Catherine de' Medici took control of the château. Through this audiotrack, kids learn about the history of Chenonceau and daily life according to the inhabitants.
The château is beautifully furnished and each room features extensive fresh floral arrangements. Follow along with the free 30-page visitors guide which details information about each room. Some of the must-sees include Diane de Poitiers bedroom, the chapel, the Five Queen's bedroom and Catherine de' Medici's bedroom. Take time in each room to fully appreciate the craftsmanship and the luxurious furnishings. It truly is a château fit for a queen!
Make sure you wander through the Grand Gallery as well. At 200 feet long, it spans the river Cher and was used as a ballroom. It was also used as a field hospital in World War I. At that time, more than 2200 soldiers were treated in this gallery.
In World War II, the Grand Gallery marked the border between Nazi-controlled France and the Vichy government. There are stories of château staff smuggling Jews and resistance fighter across the gallery into the Vichy-controlled area.  
The grounds surrounding the château are worth a visit as well. There's Diane's Garden created in a traditional Italian format with a water fountain.
There's also Catherine's Garden which is slightly more intimate. If you're a fan of mazes, this château also features a maze. Also, if your family likes animals, visit the 16th-century farm which houses the Chenonceau donkeys as well as plots of vegetables, plants and flowers.
Château de Chenonceau
37150 Chenonceau, France
---
We visited the Loire Valley prior to the pandemic. However, this article has now been updated with current information.