Wondering what you should do in Paris with your kids? Paris is not just for lovers. It's also a great family-friendly destination for those with kids of all ages whether they're babies, toddlers, kids or teens. It's a fabulous spot for a family holiday with plenty of fun activities for both parents and kids! Climb the Eiffel Tower, The Louvre or walk along the Seine. Whether you're visiting for a weekend or longer, there's plenty to keep everyone happy on a family holiday in Paris.
Jump to a specific section to enjoy Paris with kids: Attractions | Where to Stay |
Attractions
Climb the Eiffel Tower
The Iron Lady is one of the busiest tourist attractions in Paris with almost 7 million visitors every year. If you want to ascend the tower, here are a few things to know. For those who are organised and know which date they want to visit, you can buy tickets in advance selecting the date and time you wish to visit. It's super easy to purchase an e-ticket and can book tickets three months in advance. You'll just need a credit card. You'll just have to hope that the date/time you're after is available. You'll need to decide which ticket you want. Then all you have to do is to print your tickets or download them to a mobile phone.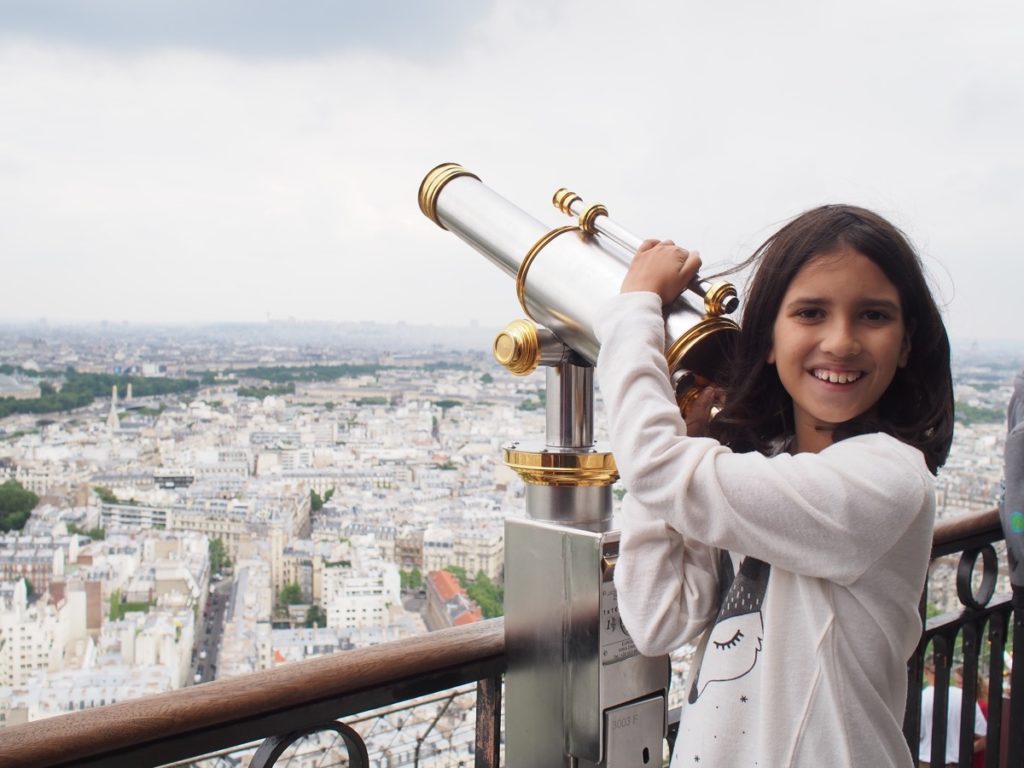 You can purchase tickets to:
Summit – this takes you all the way to the top of the Eiffel Tower (900 feet above Paris). You'll have to ride an elevator to the second floor and then queue in line for the elevator to the summit. You can purchase a champagne at the top and also see the reconstruction of Gustav Eiffel's office.
Second level – You can either purchase a lift entrance ticket to 2nd floor (400 feet above Paris) or a stairs entrance ticket to 2nd floor (yes you can climb up if you miss out on purchasing a lift ticket).
If you miss out on obtaining Summit access, don't worry. The view from the second level is great and it's actually easier to recognise the sights of Paris including Arc de Triomphe and Notre Dame.
Insider Tip: If you purchase an e-ticket, get to the Eiffel Tower at least 30 minutes before the time listed on your ticket. You'll need it to get through security. When you arrive at the base of the Eiffel Tower, follow the signs for the entry lines for visitors holding tickets. An agent will then check the validity of your ticket and you'll be allowed through airport-style security.
Don't miss the movie theatre on the first floor. It shows a short video of the tower covering its history and architecture. There's also a kids activity book Follow Gus! for ages 6 to 10 available in different languages for the first floor that you can pick up for free. It guides kids around the first floor and gets them to read information panels and answer questions.
Eiffel Tower
Champ de Mars, 5 Avenue Anatole France, 75007 Paris
Nearest RER station: Line C Tour Eiffel
Nearest metro station: Bir-Hakeim
See the Eiffel Tower Lights At Night
Head to the Eiffel Tower at night to see it lit up. It's a sight to see. Every evening, the Eiffel Tower lights up in golden covering and sparkles for 5 minutes every hour on the hour.
Insider Tip: Take the Metro and get off at the Trocadero stop. There you'll find lots of other people enjoying views of the Eiffel tower. Just be aware that you'll be approached by hawkers trying to sell you replica Eiffel towers, beer and wine.

Visit the Louvre Without Waiting for Hours to Get Tickets
The Louvre is one of Paris's most popular attractions and it's easy to understand why. This museum is packed with famous pieces of artwork including the Mona Lisa, Venus de Milo and Michaelangelo statues.
When visiting the Louvre with kids, realise that it's overwhelming to try to see all of it. Our picks would be the Denon wing and the Sully wing. As our child is obsessed with Percy Jackson novels, we spent a while touring the Greek antiquities in the Denon wing like the Parthenon Friezes and Winged Victory of Samothrace (my favourite). We also enjoyed seeing the Egyptian antiquities in the Sully Wing.
If you want to see the Mona Lisa, follow the Mona Lisa signs. She's located in the Italian paintings section in the Denon wing and the painting is actually smaller than expected. During busy periods, the room can be packed but during the evening, there are a lot less people looking at Da Vinci's famous painting.
We rented an audio guide on Nintendo 3DS ™ XL for our daughter so that she could learn about the different artworks throughout the Louvre. She loved learning more about the art on display. Note that you will be asked to leave a valid piece of ID as a deposit (ID card, passport, etc.) The audio guide provides commentary in French, English, Spanish, Italian, German, Japanese, and Korean.
You can also download the Louvre App beforehand to your own smartphone which provides comprehensive descriptions of 600 pieces of artworks and of significant parts of the Louvre Palace.
While you're looking at the artwork, don't miss looking at the building itself. The Louvre was originally a royal residence. During the French Revolution, it was seized and became a museum in 1793 for the French masses to enjoy. It's a beautiful building with three interconnecting wings and of course the famous pyramid by the main entrance.
Insider Tip: The lines to the Louvre are insanely long and during busy periods, admission without pre-booked tickets is not guaranteed. You can book tickets online and hope that your desired date and time is available. Note that buying your ticket online doesn't mean that you skip the line – it means you can enter the museum via the orange line in less than 30 minutes.
Or you can do what we did which I highly recommend for those who dislike lines and crowds. We visited in the late afternoon on a day that the Louvre was open late. On Wednesdays and Fridays, the Louvre is open until 9:45pm. Kids under 18 receive free admission.
We entered the Louvre on a Wednesday at 5pm and encountered no lineups at all for admission or for security. Enter via the underground mall entrance which is accessed via the Carrousel du Louvre shopping mall. Visiting at this time is perfect for families – as there are no crowds and you can easily navigate through the Louvre. It's more than enough time to visit this famous museum.
Make sure you pick up an information map at the desk marked Information as you first come into the Louvre. It's available in 7 languages: Chinese, English, French, Japanese, Korean, Russian, and Spanish. It's immensely helpful when you get lost… and you will get lost.
The Louvre
75058 Paris – France
Nearest subway station: Palais-Royal Musée du Louvre
Wander through the Tuileries Gardens
Before or after your visit to the Louvre, wander through the Jardin des Tuileries. It's a popular place for families and lets kids run around. They can also sail boats around the pond and stop for a bite to eat like we did.
Jardin des Tuileries
75058 Paris – France
Nearest subway station: Tuileries or Palais-Royal Musée du Louvre
Visit Musee D'Orsay
Another must-see attraction is the Musee d'Orsay or Orsay Museum. It features artworks from the 1800s and 1900s and as a result has one of the best collections of Monet, Renoir, Degas, Van Gogh and Cezanne. It's also a great museum to visit with kids as it's much smaller than the Louvre. Like other museums in Paris, it's recommended to purchase your tickets online at the Orsay website or at a tourism office. Kids under 18 receive free admission.
Get your kids to pick up the Family Visit guide. It's available in English and lets kids discover the Musee d'Orsay in an age-appropriate manner.
Housed in a former railway station, the building is comprised of three levels. We chose to visit the Impressionists on the top floor first. It's filled with iconic paintings from impressionist artists including Monet and Cezanne.
While you're on the top floor, go for a wander. You'll discover the large clock face. You can also go out to the terrace. The entrance is by Cafe Campana. Here you'll look out across the Seine river. There's also a kiosk if you feel like an outdoor picnic.
If you're a fan of Paul Gauguin, his paintings are on the second level along with those of Vincent Van Gogh. There's also lots of iconic sculptures on this level by Auguste Rodin.
On the main level, you'll find a sculpture of Pompon, a polar bear created by Francis Pompon, an assistant to sculptors Auguste Rodin and Camille Claudel. As you can imagine, this bear is popular among kids. It's just one of the many sculptures on this level, so take the time to walk around and see them. Also, look for the replica of the Statue of Liberty.
You'll also discover giant paintings in Gallery 24. This collection of large paintings are nicknamed the "large formats" and are awe-inspiring to gaze upon.
If your family is not bothered by nudity in art, there's an entire room of paintings and sculptures of nude men, women and mythological figures. It's a celebration of the human body idealised in art.
Musee D'Orsay
1, rue de la Légion d'Honneur, 75007 Paris
Nearest RER station: Line C Musée d'Orsay
Nearest metro station: Solferino
Visit the Arc de Triomphe
Commissioned by Napoleon Bonaparte to commemorate his victory at the 1805 battle of Austerlitz, this is one sight you shouldn't miss.
It's an iconic spot in Paris and one that deserves to be seen up close even if it as first that seems like it's impossible. Located on a busy intersection on the Avenue des Champs-Elysees, don't even think of trying to navigate the roundabout and the many lanes of traffic. you can reach the arch by using the underpass located on the Avenue de la Grande Armee side of the circle. If you're coming by Metro, access the tunnel from the Wagram exit of the Metro.
Take the time to look around the Arc de Triomphe. It's an incredible tribute to French military history. The names of the generals who served with Napoleon are engraved in the monument. The underlined names are those soldiers who died on the battlefield. Pay your respects to the Tomb of the Unknown Soldier.
You can also climb to the top of the Arc de Triomphe. It's a 284 steps to the observation deck. However, the lines were really long the day that we were there and so we chose not to wait.
Arc de Triomphe
Place Charles-de-Gaulle, 75008 Paris
Nearest RER station: Line A Charles-de-Gaulle-Etoile
Nearest metro station: Lines 1, 2 et 6, stop Charles-de-Gaulle-Etoile
Follow in Napoleon's steps on the Avenue des Champs-Elysees
Walk from the Arc de Triomphe down this famous Parisian street, one of the most famous streets in the world. It's a massively wide boulevard which is home to some of the most exclusive designer stores including the flagship shop of Louis Vuitton. It's also the street which hosts the famous Bastille Day parade and New Year's Eve fireworks. The avenue is also home to the finish line of the famous cycle race, the Tour de France.
Walk or take a boat ride down the Seine
The Seine River runs through Paris and divides the city into the Left Bank and Right Bank. It's wonderful to stroll along the Seine and enjoy the fabulous French buildings and buildings. Bring some food and enjoy a picnic on the Seine.
If you have little ones and prefer not to walk, take a boat ride down the Seine. It's a great way to see the iconic spots of Paris from the water including The Louvre, the remains of Notre Dame (after the fire) and a few of Paris' many bridges. There are lots of boat tours to choose from. Read through reviews on Trip Advisor first and opt for a short boat ride. A one hour cruise might be better for kids who might get bored easily.
Where to Stay
If you want to experience Paris life, choose Villa Daubenton in the 5th arrondissement of Paris. This highly-recommended boutique hotel offers a variety of accommodation to suit your family and budget. We opted to stay in a one-bedroom apartment. This self-contained apartment contained a separate bedroom, living room with sofa bed and kitchen. Having kitchen facilities enabled us to self-cater. Nearby was the Mouffetard Market so we could purchase food from boulangerie, patisserie and street market to assemble our own meals. This enabled us to sample local food and eat like a Parisian family.

Conveniently located within a residential area across from a primary school, Villa Daubenton provides a real sense of French life. From the second level of our apartment, we could look across to Paris skyline of apartments. It's handy to the Paris Metro as it's only a short walk to Censier-Daubenton metro line, line 7 (Towards La Courneuve – Villejuif Louis Aragon). If you need any assistance or wish to buy museum tickets, the staff of Villa Daubenton are kind and helpful and speak English.
Villa Daubenton
34 Rue de l'Arbalete